Blackhawk! Diversion Sling Bag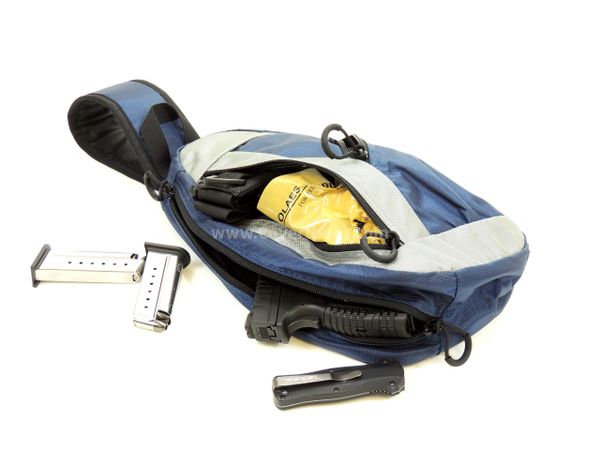 Blackhawk! Diversion Sling Bag
Quick Access to Your Handgun

Adjustable Loop/Velcro Holster Included

Internal Mesh Pocket for Visibility of Contents

The Blackhawk! Diversion Sling Bag is a great little grab and go Everyday Carry sporting a concealed adjustable holster mounted to the back panel of the bag and easily accessible from the left or right side. This thing is very unassuming and perfect if looking just to tote your handgun, a couple of magazines, tourniquet, flat bandage, keys, etc., in a secure and organized manner!
We like this bag because it is a fast design that allows you to get the bag from around the back of the body to the front with just a pull, and then your hand is already in position to find and unzip the oversized zipper pulls to get on the gun when seconds count.

The mesh pockets on the inside of the Diversion Sling Bag are a nice added feature to help find those little items that always seem to fall into the "pocket abyss." The front pocket is divided into a small admin style pocket for ID sized cards and other similar items. This is always a desirable feature on these smaller kinds of bags when out and about in the city or foreign locale so you can just pull the bag around to the front of you, unzip, grab your dirhams/pesos/or euros, zip it back up and sling back around without ever having to remove the bag from your body.

(Handgun, magazines, knife, not included, but you can find the
Tactical Medical Solutions SOFTT-W Tourniquet here
and OLEAS Bandages here)