EDC Survival Kit 1.0 and Blackhawk! Tactical Handbag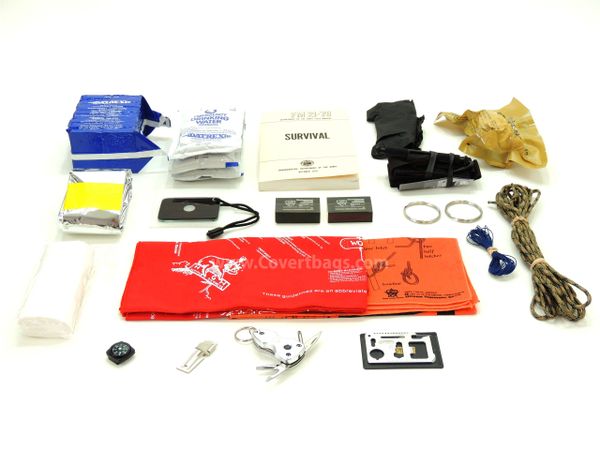 EDC Survival Kit 1.0 and Blackhawk! Tactical Handbag
Each EDC Survival Kit 1.0 is comprised of the following items!
Blackhawk! Tactical Handbag (black)

Tactical Medical Solutions SOFTT-Wide Tourniquet
Tactical Medical Solutions 4" OLEAS Bandage

2 Pair Black Maxx Nitrile Gloves

Voodoo Tactical adjustable loop/Velcro mounted holster
Elite Survival Systems Pistol loop/Velcro Magazine Pouch

25 ft. paracord
15 ft. 200lb rated Kevlar thread
2 boxes of waterproof matches from 5 Star Gear
Button compass from 5 Star Gear
Voodoo Tactical Multi-Purpose Survival Tool
Signal Mirror from 5 Star Gear
4 Packs of Emergency Purified Drinking Water from 5 Star Gear
S.O.S Emergency Food Bars from 5 Star Gear
5 Star Gear Mini-Multi-Tool with LED Light
5 Star Gear Orange Survival Handkerchief
5 Star Gear Red First Aid Handkercheif
US Army Survival Manual

Emergency Sleeping Bag/Space Blanket from 5 Star Gear
5 Star Gear P-38 Can Opener
Bio-Degradable Toilet Tissue from 5 Star Gear
We got tired of seeing emergency preparedness/survival kits with cheap and useless products inside of them, so we put together one of our own! All the work is done for you and neatly packaged in a Blackhawk! Tactical Handbag.
Our EDC (everyday carry) Survival Kit 1.0 is comprised of products from Tactical Medical Solutions, Voodoo Tactical, Elite Survival Systems, and 5 Star Gear.
Best of all, we crunched the numbers to offer an awesome deal on it and help you save almost $60!
"Wait, I thought this was Covertbags.com, why are you doing a survival kit?" Because, you never know when you might find yourself in a bad spot, and having these items on hand can potentially save your life. Many of our customers are frequent travelers of the world to some pretty austere environments, and understand the importance of having similar kits. Considering the aforementioned, along with our own experiences, it just makes sense to us. The EDC Survival Kit 1.0 also fits nicely into the main pack body of most medium sized packs. This makes for a great self contained grab and go if you need to move light and fast!
(Handgun not included)