Grey Ghost Gear Griff Pack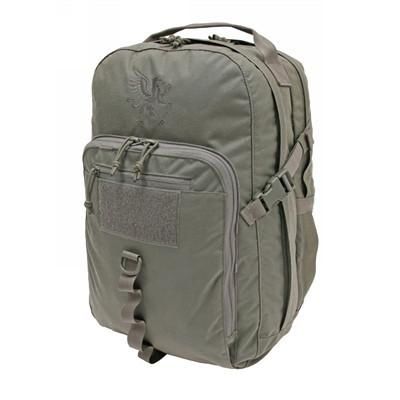 Grey Ghost Gear Griff Pack
19" Tall, 12 "Wide, 8" Deep.
Velcro Compatible Platforms Inside
Dedicated Concealed Carry Pocket

On the front of this pack there is a 3x5 loop panel for patches and name tags. Above it there is a zippered compartment that is lined with a soft cloth to keep your eye wear, jewelry or any other scratch prone item. The front pocket has administrative storage for pens, flashlights, and notebooks. It also has a key hook and features a loop panel to attach pouches that have hook on them to add to the storage. There are also elastic loops that will carry Pistol or SMG mags securely for those to and from range.
The middle compartment folds open in a clam-shell fashion. The back of the compartment is covered in loop to attach various hook backed pouches and organizers. It will also adequately carry books and a change of clothes or a days rations.
The back compartment is where the surprises are. In this compartment you can store your 17 inch and smaller laptop in its own padded sleeve, there is a field of loop on the opposite side from the computer sleeve that you will apply a hook backed holster and Magazine pouches. On each side of this compartment are pass through doors that allow you to access and draw your handgun from this bag while having it on your back. You can even close off the side that you do not draw from for added security of the compartment. Also in this compartment is a zippered pocket to store more items that may be needed.
On the back panel of the pack there is air mesh that allows you to be comfortable while carrying the bag from class to class or from stage to stage on the range. The wide shoulder straps are also backed with air mesh to ensure comfort.
Accessories pictured not included.