Sneaky Bags Nautilus Sling Pack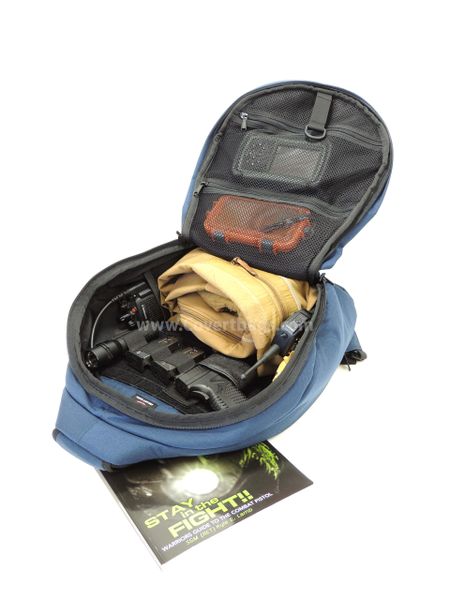 Sneaky Bags Nautilus Sling Pack
Left or right hand draw capable

No external branding
Premium materials and construction

External Dimensions - 21" (H) x 13" (W) x 7" (D)

Internal Dimensions of Main Compartment - 18" (H) x 12" (W) x 4.5" (D)

Weight - 2.8 pounds
The thing we really love about the Nautilus is it is a cool design with purpose built features to enhance a quick handgun draw from the back panel. This can be done from the left or the right depending on how you set up the bag's sling strap.
Inside the bag is a "plethora" of webbing covered with loop, "That's MOLLE and Velcro for all of you who don't habla." (Insert Gunny Highway voice here) This gives you a ton of options on how to build out your everyday carry kit items or operational gear.

The Nautilus is one of the few bags, covert or not, that also makes good use of the dead space between the back of the bag and the flap, by putting mesh pockets on both sides at the bottom. Imagine water bottle pockets on the inside.
Like all Sneaky Bags there is no external branding or overt type of materials to give off that MIL/LE signature, and it comes with their removable luggage tag.

Covert Pro Tip: Guide curious on-lookers where you want them to go in their ideas about why you are there and what you do for a living. Make a fake business card that supports your overseas travel persona and throw it in the luggage window.
(Handgun, magazines, radio, jacket, flashlight and other items not included.)