Sneaky Bags Sentinel Backpack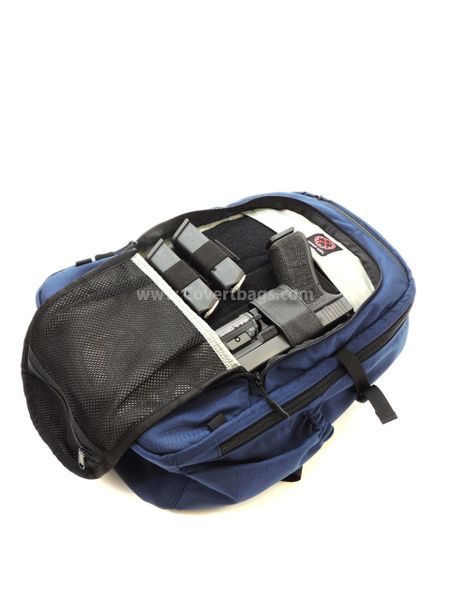 Sneaky Bags Sentinel Backpack
Very low profile design
Lots of MOLLE and Velcro compatible options
18' H x 12" W x 8" D
The brand name says it all, "Sneaky Bags." What we love about all the Sneaky Bags line is they look just "plain." Not too much of this or too little of that. The Sentinel has a high "covert" factor all the way around with dedicated concealed carry platforms.

In the main body of the pack it is no frills, just a straight forward design of "here is your very generously sized MOLLE compatible platform with loop for hook backed pouches too!" Then on the main body lid you will find two different sized mesh pockets for quick id of items within and access to them. The large outside pocket has the entire backing done in loop on the inside of it and another mesh pocket.

It might sound insignificant, but this pack has some great water bottle pockets! Very robust elastic and not too short in overall pocket length. They make for a great place to dump or retrieve items from very easily. The Sentinel also has a nice compression bungee option for strapping a jacket to it without eating up space on the inside where your tools might be and an additional horizontal zippered pocket at the top for quick go to items. Great bag!

(Handgun, magazines, and additional hooked back pouches not included, but you can find those pouches in our Holster and Pouch section!)