Sneaky Bags SUB Shoulder Utility Bag-Large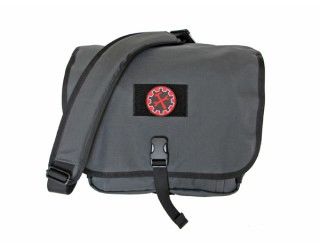 Sneaky Bags SUB Shoulder Utility Bag-Large
Premium YKK Zippers
Superior Construction
MOLLE and Velcro Compatible Platforms Inside


12.5"H x 12"W x 4"D
The interior of the bag's main compartment is covered in MOLLE/VELCRO letting operators organize as they  see fit. When loaded rifle magazines or a weapon system is placed on the central MOLLE/VELCRO field, the main weight in the bag is stored close to the operator's center of gravity, minimizing any flopping around and the need to fight with the bag when inserting and retrieving items.  The main interior opening of the bag is re-enforced with HDPE plastic to alleviate the tendency of soft bags that collapse in on themselves.  It makes it super easy to retrieve items from the bag without looking or fumbling during moments where time is of the essence such as re-loading a weapon or getting at that important piece of kit.
Outward of the main compartment is a "Dump Pouch" style pocket with a collar that makes it easy to shove things like expended magazines or evidence inside the bag without worry that it will come out under vigorous movement while the main flap of the bag is open. 
Attached to the outermost portion of the "Dump Pouch" is a quick access Tool/Medical pocket which has strips of elastic webbing to further organize medical supplies like tourniquets or pistol  magazines, multi-tools and flashlights.  
There is a 4" x 2.5" patch of loop Velcro on the flap of the Tool/Medical pocket which can be used to affix identity badges for your agency. If you are fighting with the main flap of the bag open, and an identity patch is affixed in this manner, you can clearly see the patch which could greatly assist in scenarios where mistaken identity would be a no-go.    All of these features are neatly concealed under the oversized main flap of the bag when not in use, giving off a look of a camera or other small utility bag (Man Purse).
The sides of the bag also have 8 x 2 Rows and columns of "UN-MOLLE"  webbing to attach other items and due to the design of the main flap of the bag, these side UN-MOLLE rows are partially obscured while the bag is in use to facilitate a more discreet appearance to bystanders.

The Sneaky Bag SUB also has four 1" common attachment loops to allow you to attach one or more of the included "Utilitor" stabilizer straps to keep the bag even more stable in vigorous movement and allow carriage as an improvised waist bag or other unconventional carry methods.