Tactical Tailor RRPS 3D Organizer CB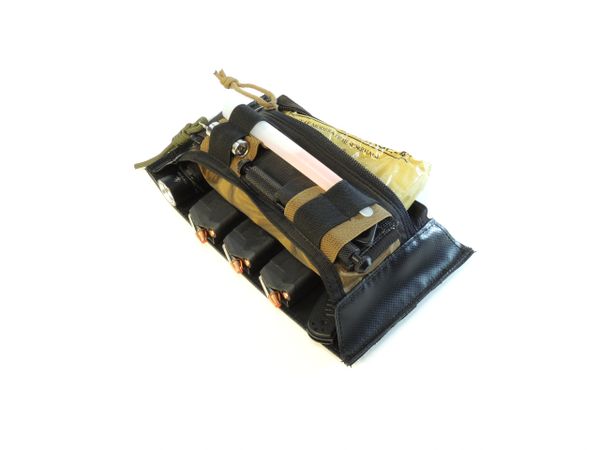 Tactical Tailor RRPS 3D Organizer CB
$4.99 FLAT RATE SHIPPING!

5 elastic loops for magazines, flashlight, knife, etc.
Zippered expandable pocket
Pen size elastic loops

Velcro compatible hooked backing for mounting in bags

Tactical Tailor's Rapid Repositionable Pouch System (RRPS) serves a variety of needs and will attach to any hook and loop system. Designed to help organize packs, bags, or anything else lined with loop, these pouches can also be fixed onto the seat backs of vehicles to help organize mission essentials no matter where you are going.
The RRPS 3D Organizer is a great asset to any bag or pack. Currently a standard addition in Tactical Tailor's concealed carry packs, this pouch allows for quick and easy access to several smaller items that may otherwise fall to the bottom of a bag. A plastic back insert reinforces the vinyl base where elastic loops allow up to 5 pistol mags. The front nylon pouch is only attached at 2 ends, allowing for easy through access of mags, and allows for the pouch to be situated in several different ways.
The front nylon pouch allows enough room for a small booklet or a wallet, with a zipper closure securing whatever you might put in there. Elastic loops on the front of the nylon pouch allow for pens, knives, small flashlights or any other small items to be immediately accessible.
*Accessories and Messenger Bag not included.