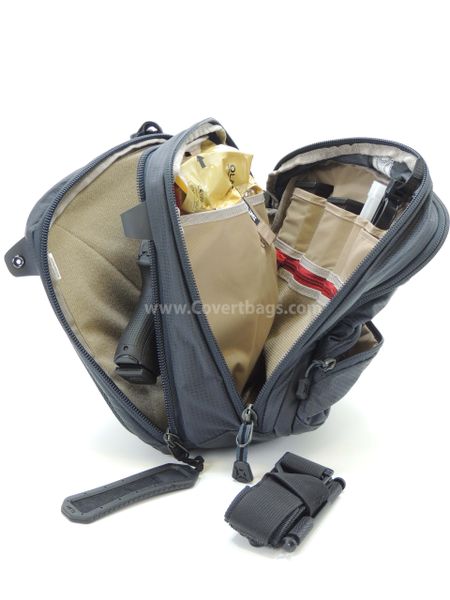 Vertx EDC Essential Bag
Perfect Every Day Carry Solution
MOLLE and Velcro Compatible Platforms
Organization and Style
12" H x 12" W x 4-6" D

The Vertx EDC Essential Bag is the perfect sized bag for all of your Every Day Carry "essentials," and if you are like us, more than necessary items. Doesn't everyone carry a minimum of 100 rounds and 4 tourniquets in their EDC? Anyway. Upon handling you will immediately notice and feel the quality of this bag.

The bag has keenly divided compartments with lots of pockets to set it up to meet your needs. There is also good stiffness between the pockets to maintain the shape and structure of the bag when items are placed within. Nothing worse than FBS, or floppy bag syndrome. Those pockets are also done in a high contrast material to easily and quickly identify items within.

There are two dedicated loop platforms for a hooked backed holster and pouches, as well as a niceeeeeee MOLLE compatible webbing area. Atop the webbing is more loop for an agency ID placard or your favorite politically incorrect patch. Just unzip and display the latter to add insult to injury if you ever have to draw and put foot to ass.
(Handgun, tactical accessories and items, and Vertx Tactagmi Multi Purpose Holster Full not included...but we don't blame you for trying.)